Over 20 Years of Establishing Trust
A leader and innovator in executive search recruitment and contract staffing worldwide
We are one of the most successful recruitment organizations in the United States, with a reputation for possessing a client-first philosophy, industry expert consultants, quality-driven processes, and the capability of a global network. We've been placing highly-qualified talent in the public and private sectors for over 20 years. Trained in the MRINetworkTM way, our team of recruiting professionals has the experience and expertise to find the talent you need.
As one of the MRINetwork's top-performing firms, Siter-Neubauer & Associates is trusted by major business and industry partners worldwide, specializing in healthcare, medical device, financial services, construction, and engineering companies, as well as by numerous local, state, and federal government agencies.
As your business partner, we consider each assignment an important component of our relationship. We are guided by one overriding principle: to effectively respond to our clients' strategic plans through finding outstanding, impactful talent. We work hard to achieve success every time. The caring and tenacious approach is why clients keep coming back to us.
---
Find talent at the pace your business demands
Our team of search professionals is dedicated to providing talent solutions to meet the unique challenges companies are facing today. We treat all of our searches with the same care, curiosity, and attention to detail. Every role counts. With the search capability of a global network, and by conducting the proper research, using the latest technology, and applying our professional expertise, we have produced an enviable record of success. We work closely with you, with our industry contacts, and our vast network of candidates who often provide quality referrals.
When you choose to entrust the search for your new employee to us, you are forming a partnership we take very seriously. We understand how a good or bad hire can impact a bottom line. We will earn your trust. Your success is our mission.
---
Key players in the public and private sectors
We are proud to provide executive search services to a variety of companies worldwide, from medical device manufacturers, healthcare, and life science businesses to federal government agencies and private companies operating in banking, finance, construction and engineering.
Clients chose Siter-Neubauer & Associates because of the professional and ethical services we offer. Through daily interaction with key players in each industry we serve, we are able to locate, screen, and recommend exceptional candidates. We take every step with care to ensure our clients receive the highest quality service and the most talented individuals.
Learn more about our specializations
We've been recognized by: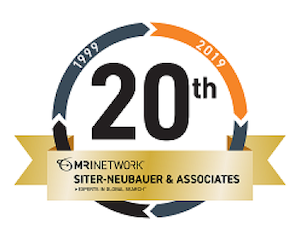 A Leader in Global Recruitment
Siter-Neubauer & Associates is a Leader and Innovator in Search, Recruitment and Contract Staffing Worldwide.